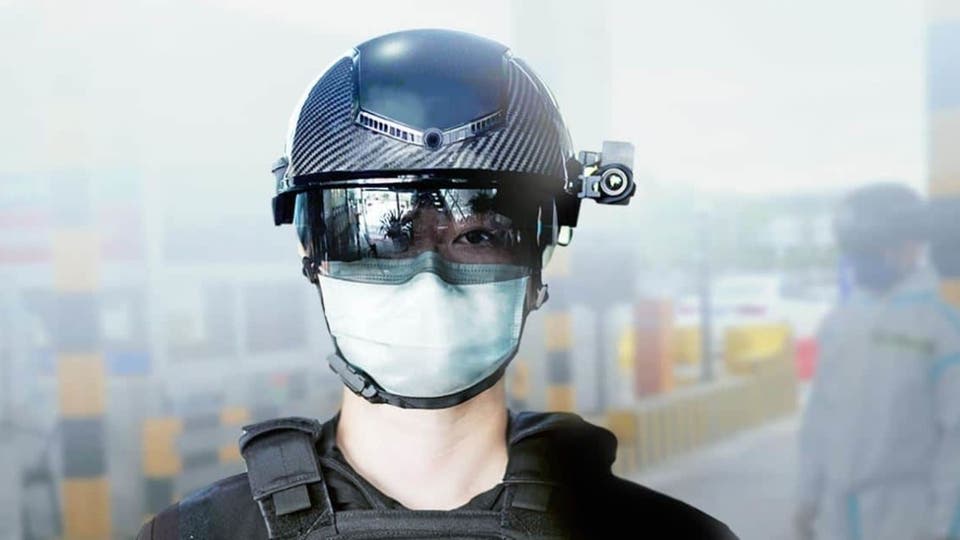 Police officers in many countries have worn smart artificial helmets that can automatically measure infantry temperature via an infrared camera while patrolling the streets in the midst of a coronavirus crisis.
KC Wearable, one of many Chinese companies that are pushing future-monitoring technology to track the outbreak of the new Corona virus, is making this smart helmet (KC N901) equipped with ARM processor, augmented reality display, infrared camera and optical image camera.
The video posted by (KC Wearable) shows an officer wearing a helmet with a camera installed with a live feed of the helmet itself showing people wearing masks, with a number appearing over their heads as they move that reflects the actual body temperature, as captured by the camera installed on the helmet.
According to the specifications of high-tech smart helmets, wearers can detect the temperature of pedestrians at a distance of two meters, and the company says that any information captured by the helmet is stored within the helmet itself, and the price of a single helmet is between 5000 and 7000 dollars.
The police officer who wears it can measure the temperature of a particular individual, measure the temperatures of passers-by in larger crowds, scan a person's QR code to obtain their personal data, recognize license plates, see people in the dark, or recognize people via face recognition technology.
According to KC Wearable's global director, Dr. Jie Guo, more than a thousand smart helmets are already in use throughout China, and she said, "We sent the helmets to the Italian military police and the Dutch government for examination, as is the police in Dubai." .
In response to a question about the accuracy of the temperature survey of the helmet, Dr. Ji Guo said the accuracy was 96 percent after the company had conducted extensive testing.
But there is mixed evidence that temperature testing is effective, and experts question the utility of thermal scanning of temperatures because the temperature may rise for a number of other reasons that are not related to the Coronavirus, which creates a whole host of false positives.
"At least 25 percent of the ship's passengers had no symptoms at all, so clearly they are not experiencing a high degree," said Professor Davy Jones of Bangor University, who led a research project on the spread of Corona virus on the cruise ship (Diamond Princess). the heat".
A study published in the medical journal Eurosurveillance in February concluded that an examination of the airport was unlikely to reveal a sufficient percentage of travelers infected with the Coronavirus.